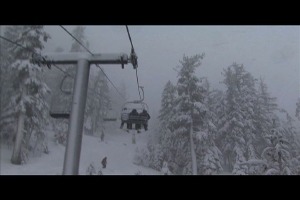 As snow finally fell heavily on Mammoth Lakes, so did the axe at Mammoth Mountain Ski Area.  The serious drop in skier numbers and in revenue this season led to a reported layoff of as many as 75 permanent employees.
Word began circulating this morning that the lay-offs were underway.  Employees who heard the bitter news made phone calls to media and friends. Others entered posts on Facebook. Sierra Wave has calls in to Mammoth Mountain CEO Rusty Gregory for more detail.
Last week, Gregory told us that the low snow year and the perception that winter had never really arrived seriously hurt ski resorts across the country.  At Mammoth, Gregory said revenues had dropped by 30% and skier visits by 36% from projections.  Gregory responded with 10% reductions in salaries and cuts for year-round hourly employees.  Gregory cut his own pay by 15%.
Last week, Gregory said he and department heads were managing things day by day.  The Mountain employee grapevine predicted layoffs eventually. They have apparently come sooner than later. Confirmation that layoffs had arrived appeared in phone calls and Facebook posts.  Some reports said there were long-time employees among those who no longer have jobs.
In terms of dollars and people, the 30% revenue drop amounts to $22 million of the usual $140 million annual Ski Area revenue.  The 36% drop in skier visits amounts to around 240,000 fewer visits.
The layoffs followed much earlier cuts in expenses, salary and hour cuts. This news added to the gloomy picture in Mammoth Lakes – Serious pressures on businesses that rely on tourists, loss of private sector jobs, loss of revenue to Town government and now a loss of Ski Area jobs.