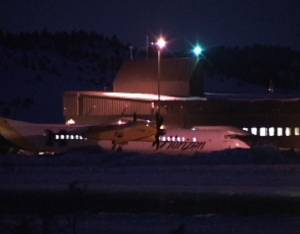 Mammoth Mountain CEO Rusty Gregory spent some time in Washington, D.C. recently. He and others touched bases with the Federal Aviation Administration.
Gregory said they talked about the next steps in air service and how to determine the level of growth Mammoth will likely go through. Gregory said for one thing the terminal is not big enough. He said when three planes come and go at the same time 160 to 240 passengers are milling around. The terminal basically holds one plane full comfortably. It was a converted old facility.
Gregory said a demand for air service has been created and the FAA will assist in the growth of that with funds to help with a new terminal, taxiways and runway when needed. Gregory said the Mountain has demonstrated the public need.
He does see air service expansion as a community effort. MMSA Marketing Chief Howard Pickett did ask the Town to share in the summer/ fall subsidy. The Town Council agreed. Pickett will go back to Mono County for the final third. As Gregory points out, Mammoth Mountain does entirely subsidize winter. He agrees it's critical to sustain year-round air service. Gregory called it basic infrastructure.
The CEO pointed out that in other resorts, the community pays for air service subsidies.