A visit to the Village at Mammoth shows vitality has returned. The latest development – Mammoth Mountain has moved forward with installation of a restaurant and bar.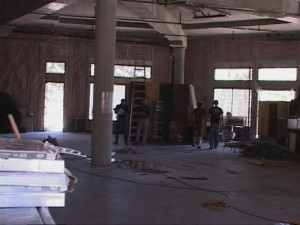 According to Ski Area Communications Director Joani Lynch, the Mountain's crews are currently working to clear the space, formerly known as Station 9, across from the former Hennessey's. Lynch said, "We are refining our concept for the venue." She said the Mountain hopes to open the new restaurant near the Christmas holiday.
Lynch added that there is a lot going on in the Village but much of it is now in the planning stage. Lynch did confirm that the Mountain is working with Village owners, CNL and Intrawest, to get more tenants back in the Village for the winter.
Matthew Lehman was hired to fill the vacant spaces and reportedly has a number of businesses on the verge of re-locating in the Village.
Sources in Mammoth did say that Gomez's Mexican Restaurant, a long-time Mammoth eatery, is in negotiations to locate in the Village, possibly in the former Hennessey's space.