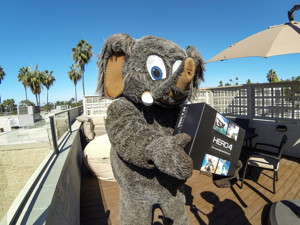 MMSA and GoPro Announce New Resort Partnership
GoPro Signs on as Official Camera of Mammoth Mountain Ski Area and June Mountain
Mammoth Lakes, Calif. – Mammoth Mountain announced today that it has joined forces with GoPro, making it the Official Camera of Mammoth Mountain Ski Area. The partnership, which begins immediately, aligns two of action sports' most successful brands.
GoPro cameras, including the new HERO4, are a crucial tool in Mammoth Mountain Ski Area's video production work, event coverage and athlete marketing. GoPros are used to capture everything from the powder runs of Mammoth pros, to the very first runs of Mammoth Ski Schoolers: http://youtu.be/2xktwdpKSE.
Mammoth's Chief Marketing Officer Erik Forsell, credited the resort's commitment to producing innovative video content with helping to create the largest social media audience of any mountain.
"We absolutely jumped at the chance to partner with GoPro," said Forsell. "On any given day, winter or summer, you can take a spin around the mountain and find Mammoth team athletes, consumers and our video production team using GoPro's amazing technology to connect with our community. GoPro is a great fit for us, it's all about encouraging people to get outside, enjoy the outdoors and share the experience with friends and family – the exact same thing we aim for here at Mammoth."
"Mammoth Mountain is a special place. It attracts people from all over, particularly from Southern California, an area rich with passionate GoPro users. Many of us grew up skiing and snowboarding on this mountain, as well as camping, fishing and riding dirt bikes in and around this gorgeous area. This official partnership now strengthens our already strong bond with Mammoth, and we look forward to the incredible content that everyone will capture on the mountain and share with the world," said Paul Crandell, VP of Marketing for GoPro.
Mammoth Mountain opens for the winter season on Thursday, November 13. Follow @MammothMountain and @GoPro on Facebook and Instagram to keep up with all the opening weekend festivities.