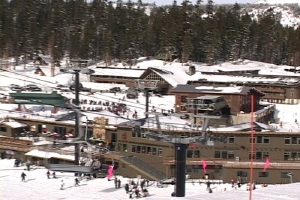 While Eastern Sierra residents consider the news this week that Mammoth Mountain has agreed to buy Bear Mountain and Snow Summit, some wondered what it would all mean to the local communities.
We posed that question to Mammoth Mountain CEO Rusty Gregory. He said, "Mammoth will have a deeper and broader position in the Southern California Market and Big Bear Mountain Resorts typically do well in drought years which provides a hedge to Mammoth's weather risk." Gregory said these factors increase Mammoth Mountain Ski Area's financial strength and this stability, he said, adds to employment and economic security in our area.
In the initial press release on the acquisition, Gregory was also quoted as saying that there will be announcements in coming months about new development and expansion plans for each of the four resorts.
A new season pass called Cali4nia Pass goes on sale at Bear Mountain this weekend. It includes unrestricted access to all four mountains. Mammoth Tourism Director John Urdi said he believes the new acquisition and season pass will bring new visitors to Mammoth Lakes.
Urdi said, "Having sister resorts in Southern California will give Mammoth Mountain Ski Area an amazing opportunity to entice those skiers and riders to become Mammoth loyalists." Urdi said Bear Mountain and Snow Summit will be the "local" resort, while Mammoth Mountain becomes their go-to destination resort. He said offers and special products like the Cali4nia Pass will "bring new visitors to town, staying in properties, shopping and dining in our restaurants. This is a great new opportunity," said Urdi, "not only for Mammoth Mountain but for our community."
The Los Angeles Times pointed to a ski area consolidation trend going on now with the need to make profits at what appears to be a time of unreliable snowfall. As Gregory said, "weather risk." Bob Roberts, executive director of the California Ski Industry Association referred to a "climate-change market."