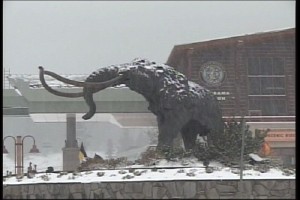 A press release from Mammoth Mountain confirmed today that the company, Mammoth Resorts LLC, has entered into an agreement to acquire Big Bear Mountain Resorts which includes both Bear Mountain and Snow Summit. According to the Los Angeles Times, this is a $38 million deal. The release says Mammoth Resorts, LLC, is "affiliated with Mammoth Mountain and June Mountain resorts."
Mammoth Mountain officials say that the two popular southern California ski and snowboard resorts host nearly 800,000 winter visits annually. This acquisition puts Mammoth Mountain in control of more than 4,000 acres of skiable land in California, according to the Times, which are visited by about 2 million skiers and snow boarders a year.
The Mountain's press release quotes CEO Rusty Gregory as saying, "This acquisition represents the beginning of a renaissance for both Mammoth and Big Bear and is the first step in the next era of skiing and riding in California." Gregory said in coming months the Mountain will announce "exciting new development and expansion plans for each of our four resorts designed to attract visitors from down the street, across the country and around the world." This acquisition focuses on both winter and summer activities at all four mountains.
The LA Times quotes Gregory as saying, "My father used to say in business you want to do the opposite of what everyone else is doing. This does look like a questionable time to buy a ski resort operation," he said.
In addition to the recreation opportunities, the new purchase means the potential for real estate development which is of interest to Starwood Capital Group, which has a controlling interest in Mammoth Mountain.
The Times wrote that this purchase by Mammoth Mountain "follows a consolidation trend in the ski industry that has put some of the nation's most popular mountains in the control of a handful of large resort developers. The Times also quotes Bob Roberts, executive director of the California Ski Industry Association, as saying that the consolidation trend "reflects the industry's efforts to make profits at a time of unreliable snowfall." Roberts also referred to a "climate-change market."
Mammoth has also announced a new season pass that includes unrestricted access to all four mountains at the discounted rate of $689 for adults. Rusty Gregory also said that skiers and snowboarders who have already bought the Mammoth Mountain pass for this coming season will be allowed to use the pass at Bear Mountain and Snow Summit.
Mammoth's press release says that closing of this deal is subject to certain conditions, "including Big Bear Mountain Resort shareholder approval and transfer of the U.S. Forest Service Permit that permits operations on early 1,500 acres of the San Bernardino National Forest."