News release
MLTPA's 10th Anniversary Celebration and Fundraiser happens this coming Friday December 9 from 5:00 PM to 7:30 PM at Jimmy's Taverna!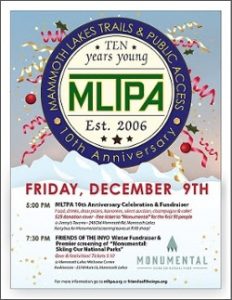 Suggested $25 contribution at the door gets you plenty of free hors d'oeuvres, free beer and wine, lots of great giveaways, and plenty of friends and partners to honor. Don't miss out on the cake and champagne toast at 6:00 and the free party bus to Friends of the Inyo's fundraiser and screening of "Monumental: Skiing Our National Parks" that will leave at 7:15 Sharp! The first 50 guests get free tickets!
To celebrate all of the great things that have happened over the last ten years, MLTPA Board Members are sharing highlights of MLTPA efforts over the decade. Board Member John Urdi offers insights into MLTPA's work on signage and wayfinding on the Mammoth Lakes Trail System.
Trail System Signage and Wayfinding – MLTPA Board Member John Urdi
Within months of incorporation in 2007, MLTPA got to work with the Town of Mammoth Lakes and the Inyo National Forest to update the Town's 1991 Trails Plan. Danna Stroud, the Town's Tourism and Recreation Director at the time, had identified a number of wayfinding design firms that could do great things here in Mammoth Lakes, and work got underway to integrate a signage and wayfinding program worthy of the Eastern Sierra into the heart of the Town's new Trail System Master Plan.
CAMP: SUMMER (2007) – The first of two large-scale public meetings organized and produced by MLTPA as part of the outreach campaign for the new Trails System Master Planning process, CAMP: SUMMER (November 1-4, 2007) attracted over 150 participants to Mammoth Mountain Ski Area's Canyon Lodge for four days of workshops, guided tours, and presentations. Jeffrey Corbin of Corbin Design in Traverse City, Michigan provided a session on signage and wayfinding for the Mammoth Lake Trail System.
Corbin Design was eventually hired to draft "Chapter 5: Signage and Wayfinding" for the new Trail System Master Plan.
Mammoth Trails Map, Signage & Wayfinding Committee (2010): In anticipation of federal funding to build signage for the Mammoth Lakes Trail System through the American Recovery and Reinvestment act (ARRA), MLTPA convened members of the community to review design standards that were documented and presented to the Town and the USFS and incorporated into the signage and wayfinding program.
Grand Opening of the Mammoth Lakes Trail System (2012): In October of 2012, the Town of Mammoth Lakes, the USFS, and a variety of partners celebrated the Grand Opening of the Mammoth Lakes Trail System and a variety of projects constructed using ARRA funds, including new signage for the Mammoth Lakes Trail System that is all fully integrated into the Mammoth Lakes Trail System website at mammothtrails.org.
Please join us in continuing to keep trails-based recreation signage and wayfinding innovation at the forefront of the Eastern Sierra by making a year-end tax deductible donation to MLTPA today.
It's almost here – ! We'll see you at 5:00 this Friday, December 9 at Jimmys Taverna!
MLTPA Board of Directors