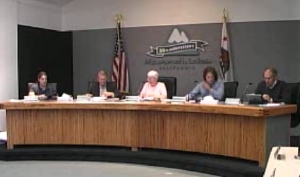 The glamour part of running for Mammoth Town Council has ended, and the grinding work has begun. When the Council met, they certified election results, administered the oath of office to the three new councilmen, and chose a new Mayor and Mayor Pro Tem.
But before the new came in, the old departed with no lack of remarks and a thick spread of compliments. Jo Bacon said, "It feels like we're on the last episode of 'Survivor – Mammoth Lakes'. Bacon gave commemorative plaques to Wood, Lehman and Eastman. Wood heard compliments of leadership and service. Although Eastman said his relationship with Wood went from friends to enemies and back. He said it had more drama than "a high school girl friend."
Bacon thanked Matthew Lehman for taking on the mayorship during the rough, near-bankruptcy year. She said, "You were always open to others' opinions. That shows a certain level of soul."
On John Eastman, who spent a total of some 25 years on Council, Lehman said, "New blood is important, but I also realize the importance of institutional knowledge. John Eastman has done an outstanding job as the shepherd of our community." Wood said Eastman was like his teacher and mentor and the kind of official who gets out on the street daily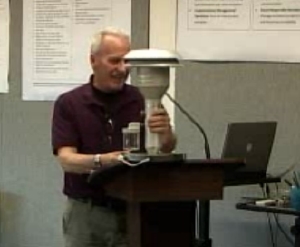 to talk to people.
Ted Schade, director of the Air Pollution Control District, said Eastman's departure means a loss to the APCD Board, where Eastman sat since 2003. In Eastman's time on the Board, Schade said, Los Angeles spent over $1 billion on the Owens Dry Lake, thousands of woodstoves were changed out and street sweepers introduced. He said Eastman is at the top of the list of board members. Schade presented Eastman with an old Mammoth Lakes air monitor turned table lamp.
Wildlife Officer Steve Searles stood up to say that all of the incumbents leaving by choice also stood ready to pull papers if no good candidates had come forward. Said Searles, "That shows a lot of fortitude. They never did a mean-spirited thing, nothing ill-willed or against the community. It's been an honor working with you," he said.
The new guys, John Wentworth, Shields Richardson, and Colin Fernie,  then took the oath of office and their seats on the dais. Then it was time for election of Mayor and Mayor Pro Tem.
Councilman Michael Raimondo nominated Jo Bacon for Mayor. That suggestion won unanimous approval. So did Jo Bacon's nomination of Raimondo as Mayor Pro Tem. So, the old maintained the power spots and the new launched into their first year as City Councilmen.