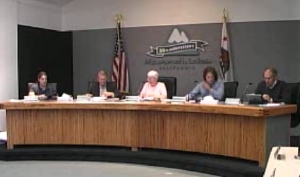 The Mammoth Town Council will meet Wednesday. At 5pm, they sit down for a workshop and presentation of conceptual park master plans. Later in their regular meeting, the Council plans to accept the preferred conceptual community designs from the parks planning efforts.
At the regular 6pm meeting, they will meet new Receptionist/ Cashier Sharon Giudice,  consider a proclamation in appreciation of the Forest Service's efforts towards the Mammoth Half Marathon, and recognize Fire Chief Brent Harper on his retirement. The Chief himself will update the Council on the Fire District's fuel reduction program. That was one of the highlights of the Chief's career. Extensive work was done in conjunction with the Forest Service to help protect the community.
The Council will also provide League of California Cities voting delegates, Councilman Shields Richardson and Town Manager Dan Holler, with direction on a resolution regarding marijuana grows. The resolution calls on the Governor and the Legislature to convene a summit to address the "devastating environmental impacts of illegal marijuana grows on both private and public lands throughout California and the increasing problems to public safety related to these activities…." The resolution suggests the State work with the California League of Cities to find answers.
The Council will also deal with issues involving Measures R and U.
The meeting adjourns to a special meeting Thursday at 8:30 am in the conference room of the Mammoth Lakes Foundation/ Edison Theatre. There is one item on the agenda – a workshop on goals and priorities.