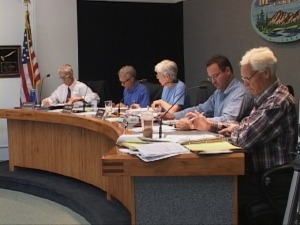 When the Mammoth Town Council meets Wednesday night, they will once more go into closed session to talk about Mammoth Lakes Land Acquisition and the more than $40 million debt against the Town.  That session was set to take place at 5pm.
Earlier this month, Town and MLLA officials met for three days in Mammoth and began negotiations over how the Town will pay the big debt.  Apparently both sides will come up with a plan and then take it to the public.
Wednesday night's meeting goes public at 6pm.  Under the consent agenda, the Council will review and accept the Mammoth Lakes Economic Forecast and Revitalization Strategies Report.
A public hearing comes up next with possible adoption of the Town of Mammoth Lakes Trail System Master Plan and EIR.  Supporters of the trail system have said publicly that they expect approval by the Town Council.
Under policy matters, the Council may approve the draft scope of work for the Economic Development Program.  The Council will also get a look at the Measure R fall award timeline as well as the Town's own fall applications.  And, the Council will also give direction on the prohibition of skateboards on Mammoth's streets.