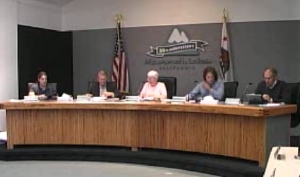 With a focus on economic development from marketing, promotion, recreational activities, air service and administration, the Mammoth Town Council scheduled a public hearing for Wednesday night regarding funds for Mammoth Lakes Tourism.
MLT funds come from 2.5% of Transient Occupancy Tax and the entire amount of the Business License Tax, less around $215,000 per year for the Town's financial restructuring plan. Wednesday night's hearing falls under an Assembly Bill requirement in Government Code. MLT has a five-year contract with the Town through June of 2018. The budgeted amount for this fiscal year adds up to $2.265 million.
According to the Council's agenda packet, funds to MLT will be used for "administration and operation of MLT, promotion, advertising, marketing, chamber of commerce support, events, air service and other efforts. The agenda goes on to say that MLT's work program is focused in primarily on enhancing the brand and attractiveness of recreational and event offerings and experiences that will improve the economic base of the Town…." Town Manager Dan Holler recommends acceptance of information provided.
Manager Holler's report also says that while the funds to MLT are not designed to create specific jobs, the investment does focus on visitation that supports local business. He writes that the hospitality and leisure sector accounts for 44.7% of the employment base for Mono County, which is tied to visitors. Most of the job base is located in Mammoth.
Following the public hearing, Tourism Director John Urdi, Executive Director of Mammoth Lakes Tourism, will give the Council a report on Transient Occupancy Tax ups and down in another drought year, spring and summer TOT and other marketing issues.