MLRT press release
Mammoth Lakes, CA – Mammoth Lakes Repertory Theatre (MLRT) Artistic Director Shira Dubrovner announces the next major production of the 2019-2020 theatrical season – The Glass Menagerie, Tennessee Williams' quintessential memory play.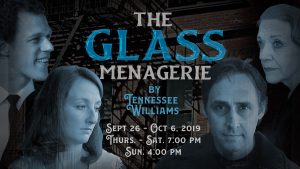 Directed by Dubrovner, the production that opens September 26 and plays through Sunday, October 6,  stars one of Mammoth Lakes' favorite L.A. actors, Brian Stanton (Blank, All the Christmas Stories Ever Told, And Then Some, All the Great Books – Abridged) as the son and narrator of the play -Tom Wingfield and locals Juliana Olinka Jones (Suite Surrender, The Importance of Being, Boeing, Boeing, Who's Afraid of Virginia Woolf) as the matriarch Amanda Wingfield, Madeline Roy (The Importance of Being Earnest, The Miracle Worker) as Tom's sister and Amanda's daughter Laura, and Jeremy Goico (Boeing, Boeing) as Jim – the Gentleman Caller. 
"When the MLRT Artistic Council chose to produce Tennessee Williams' first play, The Glass Menagerie, I was both elated and petrified," stated Dubrovner. "This is a classic that so many people are not only familiar with but have seen done brilliantly before I took it on. I knew I wanted to approach the play focused on finding the truth–my truth and the characters' truth. From that moment of discovery, I needed to forget every idea I'd ever heard about the play and the characters and deconstruct the play – read it like I was reading it for the first time and seeing these characters for the first time. Amanda, Tom, Laura – the characters in the play are complex and there are so many metaphors and symbols throughout this beautiful piece of art that Williams wrote, inspired by events and characters from his own life. I hope the audience shares the experience of these characters that are so real and complex and beautifully written and the actors' efforts to bring them to life."
First produced in 1945, The Glass Menagerie quickly became a hit, establishing Williams as a major American playwright. The story is told from Tom's present-day perspective – reliving memories of his life in St. Louis with his Southern Belle mother, abandoned by her husband, his crippled sister Laura and the Gentleman Caller they hope will be the savior that frees them all. Williams went on to write some of the most classic theatrical plays of the 20th century including A Streetcar Named Desire, Cat on a Hot Tin Roof, and Night of the Iguana.  During his career he won two Pulitzer Prizes for drama, four New York Drama Critics' Circle Awards, a Tony Award, and the Presidential Medal of Freedom (President Jimmy Carter).
This MLRT production is also being made available to students for free as part of MLRT's "Theatre for Young Audience" programming made possible in part by a grant from the California Arts Council. This production is geared toward high schoolers; teachers have been supplied in advance with a study guide from MLRT to enhance the theatre-going experience for students. 
The public performances will run for two weekends, Thursday through Sunday beginning September 26th and concluding on Sunday, October 6; Q&A's with cast take place immediately after both Sunday matinee performances.
For more information about The Glass Menagerie and/or to purchase tickets or season passes visit MammothLakesRepertoryTheatre.org.
​FACT SHEET:
WHO: Mammoth Lakes Repertory Theatre 
WHAT: The Glass Menagerie
WHEN: Sept. 26 – Oct. 6 – Thu-Sat at 7:00 PM; Sun at 4:00 PM
WHERE: Edison Theatre, 100 College Parkway, Mammoth Lakes, CA 93546
COST: Tickets online: $20/$18/$10; Tickets at the door $22 – No discounts
RESERVE TICKETS: www.MammothLakesRepertoryTheatre.org
The Mammoth Lakes Foundation offers both free education (books and tuition) to any Mono County resident and/or high school graduate who pursues an AA degree at Cerro Coso Community College as well as                                     year-round theatre programming through Mammoth Lakes Repertory Theatre. For more information or to make a tax-deductible donation to the theatre or to the Foundation, please contact Shira Dubrovner at 760.934.6592, the Foundation office at 760.934.3781 or visit MammothLakesFoundation.org. 
Our nonprofit work is only possible through your generosity.