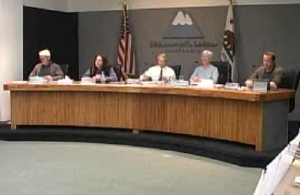 The Mammoth Lakes Recreation Formation Committee planned to meet Monday afternoon at 3pm for their final discussion before the Mammoth Town Council considers approval of the Committee's recommendations to form a new recreation entity, MLR.
Town Council members, some citizens and some political candidates have expressed support for MLR. Others say it will cost too much and should be delayed for the new Town Council members to consider. Sandy Hogan distributed a letter from someone who wished to remain anonymous. That letter indicates it represents more than one person and that there are serious questions about using tax money from Measures R & U to form and finance the new recreation entity.
The letter, which lacks some credibility because it is anonymous, says Measures R & U were never meant to fund events and that a new Town Council should not be saddled with a decision made before they even arrive.
The MLR Formation Committee says the Town Attorney has okayed their plans, which include authorizing MLR to make recommendations for use of tax money from Measures R and U. MLR would work with the Town on a contract to provide specific recreation products.
The MLR Formation Committee has created a Draft Working Plan. The agenda packet says, "MLR is intended to be the lead entity for advancing recreation initiatives, program implementation where identified, and facilitating collaborative efforts."
The MLR Board would consist of nine directors. Seven would represent recreation interests. One would be an appointed representative of the Town Council and one, from the Mammoth Lakes Tourism Board.
More on all of this Monday at 3pm and again Wednesday night when the Town Council weighs in on the issue. MLR is number 9 on the Council's 11-item agenda.