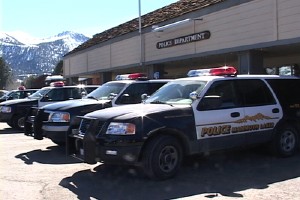 When the Town Council cut nearly half of the staff at the Mammoth Lakes Police Department, officials said they wanted a volunteer program. Police Chief Dan Watson had agreed he would do that but advised that volunteers can not perform all of the duties of sworn officers. Now, Watson does have a volunteer program in the works. He lined out what members may be able to do.
Chief Watson said that Volunteer Program Co-ordinator Karen Smart recently led a volunteers' meeting. Eight local people turned out, and Watson said, "We came up with a list of possible tasks." He said volunteers can perform administrative duties like manning the front counter, handling inquiries and calls. They can do live scan finger print searches, filing, and assisting with traffic direction and other duties for pre-planned events.
Chief Watson said there is also the possibility of re-establishing a Neighborhood Watch program in Mammoth Lakes. He said to do that would require a volunteer head of the program, block captains and community patrols.
Watson said volunteers can also check on the homes of people on vacation, and respond to assist to secure a crime scene. The next step will be for the Police Department to put together a training program. The Chief said Co-ordinator Karen Smart will come up with a curriculum and arrange for instructors and some individual training.