Ever try on-street parking at the Village at Mammoth? Just one more parking frustration much of the time, but after Mammoth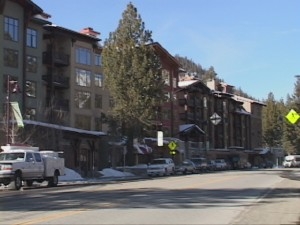 Police Chief Dan Watson received a complaint about people parking all day long in the 30-minute spaces, he upped the enforcement. We hear it has worked.
Chief Watson said he got a complaint about speeds on Minaret and about the 30-minute parking spaces blocked all day long. The Mammoth Police Department's Community Services Officer Kari Orr focused on the problem. Chief Watson said the Department did lose civilian staff, but Ms. Orr has tackled more enforcement. The Chief explained that the same person who marks a tire when someone first parks has to be the one to go back and check and write a citation if needed.
Watson called Ms. Orr a conscientious Community Services Officer who also works as the property officer, many other traffic issues and even animal control issues. The MLPD concentrates on parking time limits and parking in front of fire hydrants, plus no parking areas during snow storms.