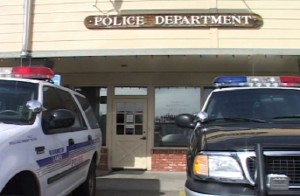 (Provided by Mammoth Lakes Police Department, Detective Doug Hornbeck)
Bill Scam Calls for Continuous Public Awareness
Subhead:  Education remains key to protecting customers 
By Susan Cox
The voice on the telephone is insistent.
"I'm with Southern California Edison. You're late on your Edison bill for the last two months.  We have a truck on the way to your business to disconnect your electricity in the next 30 minutes and it will be turned off for approximately two weeks."
The solution, says the caller, is to pay over the telephone with the purchase of a $500 prepaid debit card immediately.  The customer rushes to the nearest convenience store, buys the card and gives the caller the security number on the back to pay the bill.
In less than five minutes, the customer has unknowingly been ripped off for $500.
Since news of this bill scam first surfaced six to eight months ago, SCE continues to wage war against fraudulent callers who, authorities says, have become more aggressive and sophisticated preying on customers.
"When SCE started doing TV news interviews about the scam, customers got wiser and the imposters started collecting less money," said Arthur Chico from SCE Corporate Security. "So they increased their daily volume of calls from 300-500 to 1,200-1,500.  They picked up their efforts, employed more callers, used faked names and used fake employee numbers."
Since December 2012, more than 8,000 customers have been targeted in SCE's service territory.  Of that number, between 800 and 900 customers have lost an average of $1,000 to $2,000, others more than $3,000. Statistics show more than $250,000 in losses to SCE customers.
Chico is working closely with law enforcement agencies investigating scams at the local and federal level.
What makes the scam so difficult to stop is that the majority of calls come from outside the United States and the apprehension of culprits more challenging.
 "A lot of it's out of the country. The anonymity of the Internet has made calls more difficult to trace," said senior detective Tim Sidentopp with the El Monte Police Department, who collaborates with Chico on scams.  "We don't know who's on the other end of the telephone doing this.  And the D.A. can't prove who it is or where it's coming from. It's a phone bank."
Authorities say the newest scam involves "double-dipping" and "triple-dipping."  Scam victims are called the day after they've paid imposters and told their transaction didn't go through and to resend the money a second or third time.
"Scammers know there's a good opportunity to collect money without going through a lot of hassles," said Chico. "Customers fear if they don't pay they could lose their business and they don't know SCE procedures."
Roughly 90 percent of SCE's targets are businesses, 85 percent of the victims are Hispanic, Asian and Middle Easterners who own commercial businesses—restaurants, small markets, pizzerias, carwashes, and hair salons—and English is their second language.
All the more reason SCE customers should stay vigilant about suspicious telephone calls requesting personal information and demanding payments, and learn how to guard against becoming a victim.
The best weapon against scams is education.  These tipoffs can help SCE customers protect themselves, said Chico.
Phone numbers.

 

Phone scammers often use "off" phone numbers like 888 or different number combinations.

 

SCE uses 800 numbers for any customer contacts.
Extension numbers. Imposters use extension numbers to make themselves appear more legitimate.

 

SCE

does not

use extension numbers.
Threats.

 

SCE

does not

threaten customers with service shut-off for two-weeks.
Reloaded Debit Cards. SCE

does not

accept Green Dot or Vanilla reload debit cards.
Weekends/Holidays.

 

SCE

does not

call customers on weekends or on holidays.
"Southern California Edison does not threaten its customers with disconnection of service," said Marlyn Denter, manager of SCE Customer Service.  "We're in the business of keeping lights on, especially businesses. We're not here to try and put our customers out of business."
Customers are urged to call SCE's Call Center at 800-655-4555 and report a suspicious call, verify information, and get answers to collection questions.  The center is serviced 24 hours a day, seven days a week.
Customers should never use call back numbers provided out of the blue to verify their billing information.  Instead, call legitimate SCE telephone numbers printed on their utility bill or SCE website.
Most importantly, never give out personal information over the telephone.  "These imposters are greater fishers of information," said Chico.  "You never know who they are and imposters will use that information against you."