Mammoth speeders watch out. Mammoth Town officials report that today marks the first day of the increased traffic calming strategy in town. The Public Works Department along with the police have been working on ways to get people to slow down while driving.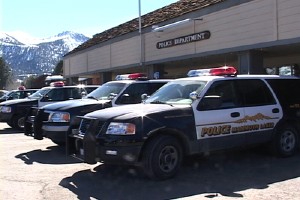 Town officials say that the PD has received a $246,000 Traffic Safety Grant that will fund traffic calming mitigation equipment, like those unmanned radar signs that tell you how fast you are driving. The grant also partially pays for a full-time officer solely dedicated to traffic enforcement.
Police Chief Randy Schienle reports that the grant completely funds the new traffic officer position for the first year and contributes 50% towards the second year. MLPD Officer Tim Smalley will be patrolling our streets effective October 1, so please control your speed.
Public Works has chipped in on the traffic calming efforts as well, with road striping on Joaquin, Lupin and Mono streets and the installation of 25 mph speed limit signs throughout Sierra Valley Sites.
According to Public Works Director Ray Jarvis, The striping gives motorists a visual clue to reduce their speed and stay on their side of the road.
Officer Smalley will be on the lookout for speeders in the new white Ghost police SUV. New LIDAR laser speed detectors will be used as well.
With these new speed enforcement efforts officially underway, Town Communications director Stuart Brown says to take your foot off the gas.