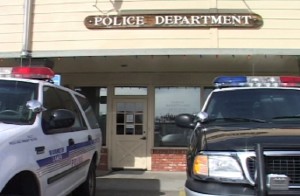 On Sunday October 2, 2011, M.L.P.D. officers responded to Hollywood Soaps and Suds Laundromat for a burglary report.  The business owner related that at about 0230 hours this morning (October 2, 2011), an unknown suspect forced entry to a coin/currency operated Coke machine inside his business and stole up to $500 in coin and currency.  The business owner also estimated that the suspect caused about $500 in damage to the machine.  The business is open to the public 24 hours a day and covered by motion activated security cameras.
The suspect is described as follows: Single suspect, most likely male, dressed in dark clothing, use a power drill to access the machine and steal the money.  The suspect was wearing a dark baseball cap over a dark 'hoody' that was pulled up over his head, dark pants, dark shoes and dark gloves.  There was white block letters visible on the front of the jacket.  A 'V' was visible on the left side and a 'M' was visible on the right side.  It is probable that the entire logo spelled 'VOLCOM', a local and popular snow board and clothing company.   The suspect appeared to be hiding his face from the security cameras.  The suspect carried a camera type bag.  The bag was medium blue with two dark horizontal stripes that could have been a handle and zipper cover and a light colored vertical stripe.  The bag also had a padded shoulder strap, which is how the suspect carried it.
If you have any information that can assist M.L.P.D., please contact Detective Hornbeck at (760) 934-2011 ext 17 or at [email protected].  You can be anonymous.