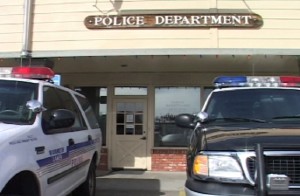 On Saturday March 23rd Mammoth Lakes Police investigated a robbery that had occurred earlier in the evening.  12 year old boys were waiting at the stop in front of the Mammoth Lakes Rite-Aid when a suspect approached and demanded money and threatened to take their skateboards if they didn't comply.  In fear of the 17 year old suspect, they gave him cash.  The victims recognized the suspect as a local resident, but didn't know his name.  The victims also told the officers that the suspect had gone into the Rite-Aid store after the robbery.
On Tuesday March 26th, MLPD Sergeant Marc Moscowitz and School Resource Officer Andy Lehr conducted a follow-up at Rite-Aid.  Rite-Aid Loss Prevention Officer Samuel Ruiz assisted by providing officers access to the store's security video.  Given the description of the suspect, Ruiz immediately identified him from prior contacts and cued the video to show the suspect walking into the store at the time the victims reported he entered.  SRO Lehr recognized the suspect as a student and knew his name from multiple prior contacts.
The suspect was further identified by the victims through a photo line-up and by accessing data from the AB 109 funded GPS monitoring device he was wearing as a condition of his probation for prior arrests.  The data clearly showed the suspect at the scene of the crime at the time it occurred.
The suspect, a 17 year old juvenile resident of Mammoth Lakes was arrested for robbery and transported to the Juvenile Detention Facility in Independence.