UPDATE FROM MLPD:
The next of kin has been notified.  The deceased person found in Mammoth Lakes on September 1 is:
Robert Scott Barsan
DOB:  September 19, 1984 (29 years)
Residence:  Reno, NV
DECEASED MAN FOUND BEHIND MAMMOTH LAKES RESIDENCE (MLPD press release)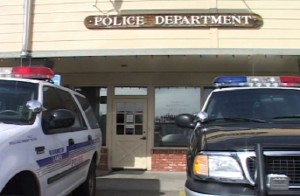 On Monday, September 1, 2014 at approximately 6:10 a.m., Mammoth Lakes Police Officers were called in from home to respond to a partially clothed, unresponsive individual behind a residence at Pinecrest Ave in Mammoth Lakes.  Upon arrival, officers found a white male, about 30 years of age and quickly determined he was deceased.  There was evidence of damage to the remains consistent with animal activity.  The cause of death will be determined by an autopsy to be conducted by the Orange County Coroner's Office.  Although the cause of death is unknown at this time, evidence at the scene indicated that death occurred prior to contact with any wildlife.  Personnel from the California Department of Fish and Game and the Mammoth Lakes Wildlife Specialist responded to the scene and do not believe the wildlife involved pose any reason for concern in the community.
The victim has not been positively identified, but it is believed he is an individual that had contact with several local agencies in the preceding 24 hours.  On Sunday, August 31 at approximately 3:30 p.m., a Mono County Sheriff's Deputy contacted a pedestrian matching the description of the deceased  north of Bridgeport.  The individual was transported by a Mono County Paramedic unit to Mammoth Hospital where he was evaluated by medical staff and Mono County Behavioral Health.  While at the hospital, the individual became agitated and uncooperative resulting in a request for a law enforcement response.  Officers from the Mammoth Lakes Police Department and the California Highway Patrol responded and assisted in restraining the individual.  The individual subsequently left the hospital voluntarily, refusing care.  Because of privacy laws, the results of his evaluation cannot be released.
At approximately 1:30 a.m., Mammoth Lakes Police Officers responded to a call from the Sierra Lodge about a man in the parking lot hitting himself in the head with a fire extinguisher taken from the hotel.  Officers responded and found the fire extinguisher, but the individual was gone.  Surveillance video from the hotel was reviewed and it was determined that it was likely the same individual who was previously at the hospital.
The Mammoth Lakes Police Department is conducting a death investigation related to the circumstances surrounding the death.  The Mono County Sheriff/Coroner's Office is coordinating the autopsy which will determine the cause of death.  Anyone having information is encouraged to contact the Mammoth Lakes Police Department at (760) 934-2011.