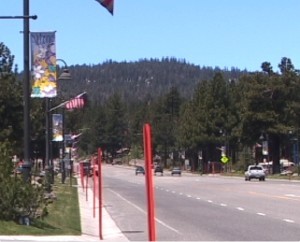 ** NEWS  RELEASE **
PEDESTRIAN SAFETY OPERATION IN MAMMOTH
On Friday, March 29 and Saturday, March 30 the Mammoth Lakes Police Department conducted a pedestrian safety operation on Main Street as a result of numerous complaints received from the public about drivers not stopping for pedestrians in crosswalks.  Plain clothes employees and volunteers entered the crosswalks at the Post Office and Fire station after activating the pedestrian warning lights.  While the large majority of drivers yielded to the pedestrians, those that didn't were cited or warned for California Vehicle Code section 21950(a) which requires a motorist to stop for a pedestrian in a crosswalk.  They were only stopped if they were close to the pedestrian in the crosswalk and posed a threat.
Two MLPD officers worked this detail on Friday and one MLPD officer and one CHP officer worked it on Saturday.  The operation lasted for approximately 6 hours over the two days and 16 people were cited and 13 were advised.
The officers were contacted by several passers-by who were aware of what was occurring who expressed appreciation for the efforts to improve pedestrian safety.
Police Chief Dan Watson said, "We did this as a result of many complaints officers and I have received about how dangerous it is to cross the street, especially Main Street.  Our hope is that drivers will be more aware and on the lookout for pedestrians in the roadway.  Most of our streets don't have sidewalks and it's even more important to be aware of pedestrians while driving in Mammoth."