Press releases
Mammoth Lakes, CA – The Mammoth Lakes Police Department invites local families to a car seat safety check event at the Mammoth Lakes Police Department (568 Old Mammoth Road) from 10:00 AM to 1:00 PMon Saturday, September 23, 2017.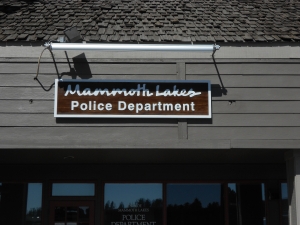 The event is part of Child Passenger Safety Week, a national initiative which runs from September 17 – 23, 2017, where officers from the Mammoth Lakes Police Department and California Highway Patrol will ensure each car seat meets federal safety guidelines, is properly installed, and educate parents and caregivers on how to choose the correct car seat. The event is free and no appointments are necessary.
As of January 1, 2017, California requires that children under 2 years old must be rear-facing unless they weigh 40 pounds or more, or are at least 40 inches tall. Children under 8 years old must be buckled into a car seat or booster in the back seat. Children age 8 or older, or who are 4'9" or taller, may use the vehicle seat belt if it fits properly with the lap belt low on the hips, touching the upper thighs, and the shoulder belt crossing the center of the chest. If children are not tall enough for proper belt fit, they must ride in a booster or car seat.
For each child under 16 who is not properly secured, parents (if in the car) or drivers can be fined more than $500 and get a point on their driving records.
NEW STATION
Mammoth Lakes, CA – The Mammoth Lakes Police Department will move to its new location the week of September 25, 2017, and have limited administrative services available during the transition.
From Monday, September 25, through Thursday, September 28, the Business Office at 568 Old Mammoth Road will be open from 8:00 AM – 12:00 PM. It will close to the public at 8:00 AM on Friday, September 29, 2017 and reopen in its newly built location at 58 Thompsons Way at 8:00 AM on Monday, October 2, 2017.
LiveScan fingerprinting services will be unavailable until October 30. The Mammoth Lakes Police Department will continue to handle calls for service and patrol as normal during the transition. All phone numbers will remain the same.
An official ribbon-cutting will take place Thursday, October 5, 2017 at 11:30 AM. An open house for the public will be held on Monday, October 16, 2017 from 4:00 – 6:00 PM and will feature guided station tours.