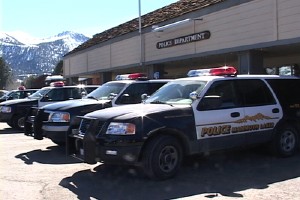 MLPD Requests Assistance in Identifying Hit and Run Suspect
Sometime during this past weekend, an unknown person lost control of their vehicle and allowed it to collide with a street light, causing significant damage.  The vehicle appeared to have been travelling up Canyon Blvd near the Village at a high rate of speed.  The vehicle's tires lost traction forcing the vehicle to over steer, slide across the oncoming lane of traffic, onto the sidewalk and into the light post.
The driver left the scene and has not contacted the Mammoth Lakes Police Department to report the damage. Upon discovering the damage, MLPD officers and Town Public Works employees were also concerned that the driver had left the scene without concern for potential injuries to others from possibly exposed electrical lines.  MLPD is investigating the collision based upon evidence located at the scene.
They are asking for anyone with who may have witnessed the collision or has any information to call the Mammoth Lakes Police Department.