On Thursday, September 8, 2011 at approximately 5:30 p.m., Mammoth Lakes Police Officers Art Torres and Jesse Gorham responded to a call on Lupin Street.  They met with a resident who had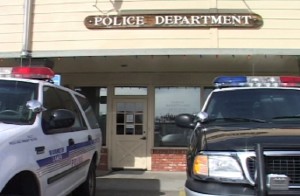 discovered a smoldering pile of needles on his wooden deck.  He also observed two 10-12 year old juveniles fleeing the area.  The resident also observed three lighters, dry grass, a burnt pen, and what appeared to be school papers.
The officers examined the school work and noted the first name and last initial of a student.  They then contacted former School Resource Officer Andy Lehr who was able to provide follow-up information on the location of one of the subjects.  The officers responded to the juvenile's residence and spoke to the parents who called their son and told him to come home.  It was later learned that at the time of the phone call, the two juveniles were in the Shady Rest Tract in the process of starting another fire.
Both juveniles confessed to attempting to start the fire at the residence.  They were arrested for Penal Code Section 451(b) (Arson of an Inhabited Structure) and released to their parents.  The case has been forwarded to Juvenile Probation.
According to police, this investigation clearly demonstrates the value of the MLPD's School Resource Officer (SRO) position.  One of the benefits of having an SRO is that the officer gets to know the students and who they associate with.  As a result of the quick follow-up to the student's home and the call from his parents, a tragedy may have been avoided.  A few more minutes and there may have been a conflagration in the Shady Rest Tract.