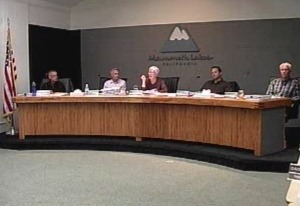 There were no angry attacks and not many questions Wednesday night when the Mammoth Town Council finally brought the issue of the $42 million lawsuit judgment to a public meeting.  Mammoth people did express concern and fear for the future.  Officials talked about a careful process to preserve Mammoth's economy and ability to function as a town.  They also brought up mediation and the wide gap between the Town and its creditor, Mammoth Lakes Land Acquisition.
Town Manager Dave Wilbrecht assured the community that the closed session process of discussing this major issue must take place because of confidentiality considerations and the need for the Town Council to speak openly to each other in private.
Financial Consultant Marianna Marysheva-Martinez told the audience that the Town has retained the international law firm of Fulbright and Jaworski which specializes in business and government law.  She said Mammoth has also hired a special counsel and consultant, Ken Klee, famous for his bankruptcy cases.  He represented Orange County and has now filed the largest public bankruptcy case in U.S. history in Jefferson County, Alabama.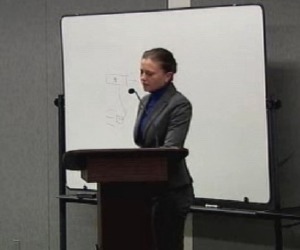 Martinez said Fulbright and Jaworski had recommended that the Town restructure with an eye on long term financial obligations and come up with a global solution for town government and the MLLA debt.  She said while MLLA may have said negotiations have stopped, the Town does not see it that way.  Martinez also said that earlier in the day, the Town had sent MLLA a letter indicating that the two sides are so far apart that it might be time for both sides to be brought closer through mediation.
Martinez had much earlier said that the Town would deal with MLLA in three phases – negotiation, mediation or bankruptcy. Bankruptcy, she said, is only a last resort.  Later in the one-hour discussion, Terry Stehlik stood up to say that if what Mammoth wants to retain through a negotiated settlement is basic services, there needs to be a definition.  She said the Town can't maintain its tourist economy with just "basic services."  Stehlik said with the economic downturn and no snow, it's "scary out there."
Councilman Rick Wood said, "It really does come down to the definition of what is basic."  He said that the differences in opinion over this are the "heart of the gap between the two sides." Wood assured the public that the Council does not see basic as just "plowing roads and filling potholes."
Some eight people asked questions and made comments.  John Vereuck said that he saw charts which show skier visits at an all time low, that TOT is down along with sales and property taxes.  Offers to MLLA, he said, should be lower now.
Others had concerns that the Town might not pay its contractors.  Steve Searles brought up the actual worth of the Town as an issue.  Dave Harvey expressed concern about protection of development of air service.
Councilman John Eastman promised more public discussions of this issue, and he said his goal is to reach closure of some type in a few months.