Press release
May 31, 2016 – Mammoth Lakes, CA  The Mammoth Lakes Film festival concluded on Sunday, May 29th with the award-winning documentary SONITA, followed by a lively, music and fun-filled awards presentation at Sierra Events Center.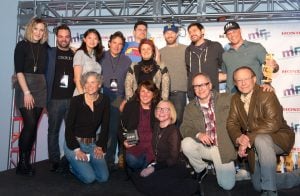 Over 50 films were screened over the five day fest, including premieres, presentation of the first ever Sierra Spirit Award to legendary director Joe Dante, filmmaker bonding at screenings and events, including a film fest hosted trip to Bodie ghost town. Awards, detailed below, included the presentation of the physical Orson trophy, each one with its own personality, and all created by local artist Josh Slater.
Jury Award for Feature Narrative – BODKIN RAS, a first time feature by director Kaweh Modiri. This Dutch film, shot in the remote town of Forres Scotland, caught the Jury by surprise with its intriguing blend of documentary and fiction. Its lyrical images, Poetic construction and poignant performances have indelible haunting effects that stay with the viewer.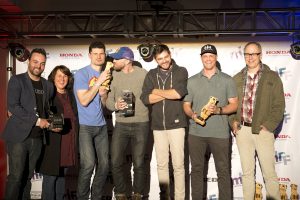 Awards:
$10K Camera package from Panavision
$10K Post production package from Light Iron
$1,000.00 cash
Orson trophy
Jury Award for Feature Documentary – SONITA by director Rokhsareh Ghaemmaghami.  The film gave the Jury a personal connection to a small, talented and compelling young woman trying to bridge the gap between her seemingly impossible dreams and her suppressive culture. The filmmaker who brought this story took an untraditional role to change the course of the young woman's path.
Awards:
Scarlett Red Digital Cinema Camera package
$1,000 dollars cash
Orson trophy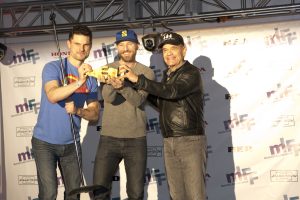 Special Mention Feature Documentary – UNDER THE SUN by director Vitaly Mansky. The Mammoth Lakes Film Festival Documentary Award for Courage is given to a film that was incredibly compelling and beautifully crafted. The filmmaker undertook a project under challenging conditions and revealed to us a world rarely seen in the west.
Special Mention Feature Narrative – MAD by director Robert G. Putka. A beautifully written and realized film about mental illness, and the trickle-down effect it has upon a mother's relationship with her two grown daughters, their relationship with each other, and the challenges of living the broken lives they've inherited from their mom.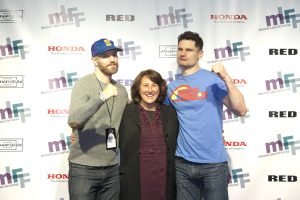 Best Narrative Short – A NIGHT IN TOKORIKI by director Roxana Stroe. Without dialogue this film sets the scene for a night out that celebrates becoming an adult while forbidden love is revealed. From its first frame to the last, this film creates a world with passion and empathy for its characters, in a setting that captures the humor and sometimes danger of true love.
Awards:
GoPro Hero4 Black
$500.00 cash
Orson trophy
Honorable Mention Narrative Short – TISURE by director Adrian Geyer. Calm, deliberate and beautifully set, the jury would like to give an honorable mention to TISURE- a film that allows the viewer to become lost in a visual story that invokes awe and inspiration.
Best Doc/Animation Short – THE SECOND LIFE by director Eugene Pankov. This wonderfully honest, heartfelt and touching portrait of a woman's love for her mother broaches on the point of obsession and the absurd, but actually forces the viewer to think about second chances. For wouldn't we all want to get another chance at life?
Awards:
GoPro Hero4 Black
$500.00 cash
Orson trophy
Audience Award for Feature Narrative – BUDDYMOON by director Alex Simmons.
Awards:
GoPro Hero4 Black
Orson trophy
Audience Award for Feature Documentary – LEARNING TO SEE by director Jake Oelman.
Awards:
GoPro Hero4 Black
Orson trophy
Thank you to our illustrious Jury Members: Narrative Features – John Fiedler, Kelly Leow, and
John Wirth; Documentary Features: Allison Amon, John Scheinfeld, and Katherine Tulich; Shorts: Bojana Sandic and Amanda Salazar
We also thank our sponsors: Honda, Panavision, RED digital Cinema, Light Iron, Cineverse, Paul and Kathleen Rudder, Mammoth Lakes Recreation Measure U, Mono County and Alicia Vennos, Sierra Nevada Resort, Eberle Winery, Blue Moon, Mammoth Mountain Ski Area, The Westin Monache Resort, The Obsidian, GoPro, Snowcreek Resort, Tim and Pam Bartley, Juliana Olinka-Jones, Sierra Wave Media, and the Mammoth Lakes Lions club.
We thank our team: Festival Manager Shaun Reitman; Matt Johnstone, Festival Publicist; Lead Projectionist Brian Moratoya; Venue Managers Kim Kittinger and Chuck Scatolini; the staff at the Mammoth Lakes Film Festival; Our festival interns Gabe Gerson and Elise and Elisa Prepatit; and Jeff Frome for tending bar for the last 3 days, and all our volunteers.  We could not do this festival without you.
And our last, we thank our filmmakers; without you there is no festival.