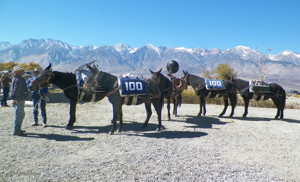 Chamber Mixer
Please join us for after hours fun at Anne Marie's Home Boutique!
Date:  Thursday, November 14th
Time:  5:00 – 7:00 pm
Location:  336 N. Main Street
Enjoy complimentary appetizers, no-host bar & great company in one of our town's nicest shops.  Everyone is welcome – please bring a friend!
Welcome Home Mules!
Join the Bishop Mule Days Celebration this Friday, November 15, 11:00 am to 1:00 pm, in the Mike Boothe Memorial Arena of the Tri-County Fairgrounds as we welcome home the participants of the 100 Mules Walking the Los Angeles Aqueduct art project.
The mules and their wranglers just completed a 27-day, 240-mile journey from the Owens Valley to Los Angeles to commemorate the centennial of the opening of the Los Angeles aqueduct. Mules were a primary force in the aqueduct's construction, just as they were in the development of the West.
The public is welcome to attend. Cameras are encouraged.
Chocolate Art Walk
Enjoy a fun and delectable evening of art, music and chocolate in downtown Bishop on Friday evening, November 15th, from 5:00 – 8:00 pm! More than two dozen artists, musicians and businesses will be participating, with special art openings, musical performances, interactive video installations, and free unique chocolate treats at every location.  
Click here for more info.