By Deb Murphy
This year's fish stocking program is a touchy subject. With Fishmas less than three weeks away, how do tourist-dependent communities deal with the fact state budget cuts have whacked away half the poundage of trout dropped by the Department of Fish and Wildlife in area waters?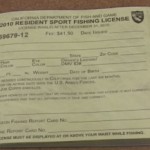 Plus, the trout included in the 375,000 pounds scheduled for the Eastern Sierra are quarter-pounders, down from the meaty half-pounders planted last year.
Jeff Simpson, Mono County Economic Development assistant, admits Mono has an advantage: more money to supplement state stocking, $130,000, all going for trophy trout in 21 county lakes and ponds. And that doesn't count what individual marinas will be adding to the mix. The town of Mammoth Lakes will be ponying up $75,000 to stock the four lakes in the Lakes Basin. According to Simpson, Alpine County's fish budget adds up to $50,000; Inyo's at $20-$25,000.
"I was at the Fred Hall shows in San Diego and Lone Beach," Simpson said. "We had a few thousand people at our booth and only a few asked about the (CDF&W) plant. What they asked about were the water levels. Our natural lakes are fine, now." Simpson and Mono's mantra is come soon and come often.
According to Simpson, the lakes in the June Lake loop are in good shape, Gull is only 11-inches below normal. Like Inyo's high-altitude natural lakes, the bodies of water get the first crack at the snow melt.
As for the politics of the fish plant, Simpson said the county supervisors will deal with that at the legislative level, looking at reducing the limits and protecting breeding grounds for native fish. The emphasis here is on the "native," since the CDF&W trout are not breeders.
So, while Simpson sees his lakes as half full of fish, Jim Tatum, chief executive officer for the City of Bishop, and Bruce Ivey, a life-long fish guru, see the lakes as half empty and are looking for a permanent fix.
"We're attacking this in different ways," said Tatum. Tatum admits the most time-consuming and long-term fix is convincing the state legislature to honor Assembly Bill 7's 2.75 pounds of fish in state waters per fishing license sold. "The license fees have exceeded the total plants for the last few years," Tatum said. In 2014, Tatum said, 1.8 million fishing licenses were sold; that totals nearly five-million pounds of trout, as opposed to the 750,000 pounds planted.
Another long-term fix would be a public/private collaboration that would take advantage of excess capacities in area hatcheries. "This isn't a new concept," Tatum said, and grant funding would be necessary to make it all happen. "People come here for a big fish experience," he said. "Local agencies can supplement with trophy trout if they have the will to do so."
According to Tatum, trophy trout cost about $5.75 a pound, about the same as a prime cut of beef.
Ivey provided some of the legislative background. AB 7 identified the 2.75 pounds per license in 2005. Then along came Senate Bill 1148 in 2012, changing the wording to "a goal of 2.75 pounds per license." "That threw out the value of AB 7," Ivey said. Ivey did the math: Anglers buying full-season fishing licenses in 2014, at $46.44, brought in $83 million. "The cost of fish plants is two-tenths of 1 percent of the department's budget," Ivey said. "They need to go back and meet the goals of AB 7. If it made sense then it should make sense now."
Both Ivey and Tatum don't see a huge impact on fishing tourism this year with the full impact hitting the Sierra in 2016. In the meantime, Bishop's Chamber of Commerce and Visitors Bureau is ramping up its "Funds for Fish" campaign to drop as many trophy trout as possible in local waterways.