Peggy Feigner of Bishops says all she wants is a "fair and honest District Attorney's Office in Inyo County." Feigner fell victim to an assault over a year ago and to what she describes as an abusive DA's office with no empathy for victims.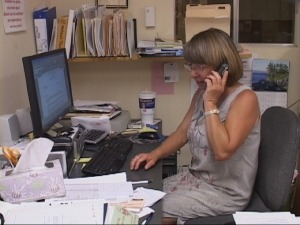 New Year's Eve in 2010, Feigner and a friend had some drinks at Rusty's Saloon in Bishop. As they left, a female suspect assaulted Feigner who first went to Northern Inyo Hospital and was then flown to Reno for serious head injuries. Her experiences with the DA's office seem to have left deep scars too.
This week, Feigner issued a Letter to the Editor that listed a half dozen complaints with DA Art Maillet. She points to the woman who assaulted her. Feigner expected prison time. It didn't happen. She calls into question the two-year delay in filing embezzlement charges against Daniel Casteel. Feigner alleges that the DA's son escaped the law when other teens did not. Feigner points to her friend, Norm Hollis, who was with her at Rusty's, and how he had to spend thousands for an attorney to fight charges brought against him by the DA only to be dropped 6 months later as unfounded.
Feigner points to former Assistant DA Mark Johnson, retired on the public dole after releasing confidential documents on DA Maillet's political opponent. She finally takes issue with Maillet's refusal to talk to the media and his "gag order on his employees against speaking to the media on matters pertaining to us," she wrote.
Feigner, long known by Eastern Sierra residents for her professional service in office supplies, lost her own business during recovery from the assault and court proceedings. She believes other local people have had problems with the DA but may be afraid to come forward. In the office at the Bishop's Elk Lodge, where Feigner now works, she was asked if she believes in the possibility of fairness from the DA. Feigner laughed with sarcasm.
She brings up phrases like "double standard" of justice and "no empathy for victims." We placed a call to District Attorney Maillet for his response to this public critique. We have not heard back.