Bishop Police Department press release
On Sunday, May 28, 2017 at approximately 6:05 am, units responded to a disturbance in the area of the 1000 block of North Main Street in Bishop.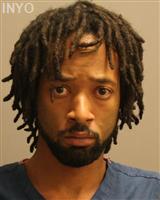 Upon arrival, it was determined that a female visiting from out of the area had been sexually assaulted by a person with whom she had recently met.
Lawrence Emmanuel Hall, a 23 year old resident of Greenville, Mississippi, was taken into custody a short time later.
Hall was later transported to the Inyo County Jail and booked for a felony violation of California Penal Code Section 261(A)(4), Rape of an Unconscious Person.