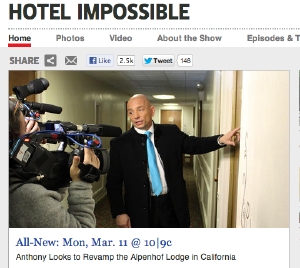 Much like the popular "Restaurant Impossible" on the Food Channel, "Hotel Impossible" on the Travel Channel finds troubled businesses, gives them a bit of a facelift and serious counseling. Monday night, the hotel version goes to Alpenhof Lodge in Mammoth Lakes. No previews allowed.
Officials of "Hotel Impossible" said they were focusing on different ski towns in the West. They said the name and look of the Alpenhof Lodge was "very unique." They checked reviews, found some good and some bad, but nothing too extreme on either end. The crew called the Alpenhof, and the rest can be seen on TV.
Stacy Schaubmayer, General Manager of Alpenhof said the only thing she can say is "He came here, and it's airing Monday." The "he" she referred to is Anthony Melchiorri (Mel-key-or-ee), the hotel fixer in "Hotel Impossible." The shaved head, natty dresser, Melchiorri has been described as in-your-face and can-do. He has worked in the hospitality business for 20 years in such famous places as New York's Plaza Hotel and the Algonquin.
On his TV show, Melchiorri gives hotels an extensive make-over with his special team. According to the internet, Melchiorri secretly scouts each property and identifies their biggest problems. He meets with the staff and the owners to determine key issues. His team creates a physical and cosmetic re-do along with procedural changes.
He checks out the Alpenhof Lodge in Mammoth Lakes Monday night, March 11th, on the Travel Channel. Check your local listings for times.