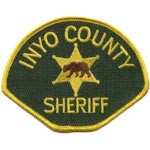 Overdue Hikers Found
Forwarded on behalf of SEKI
Searchers located two missing hikers in a remote area of Kings Canyon National Park late in the afternoon on Wednesday, Oct. 1. Rommel and Marisol Pompa are in good condition. Five rescuers assisted the couple Wednesday evening and will hike out with them on Thursday, Oct. 2.
The Pompas' wilderness permit indicated they planned to hike the Rae Lakes Loop, departing from Cedar Grove on Sept. 25 via the Woods Creek trail and returning Sept. 29 on the Bubbs Creek trail. Information from other hikers helped to focus the search area. The Charlotte Creek drainage, where searchers found them, is within the area of their intended route. In addition to teams on foot, searchers used the park helicopter and horse patrols.