– Inyo County Sheriff's Office press release
During the month of November an internal audit was concluded of the inmate welfare fund by Inyo County Sheriff's personnel. The inmate welfare fund includes revenue generated from inmate commissary and inmate phone services; the audit revealed a monetary discrepancy totaling approximately $13,000.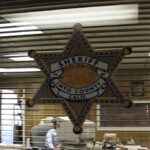 The Sheriff's Office immediately contacted the Inyo County District Attorney's Office for a thorough investigation, which is currently ongoing. One Correctional Officer was immediately placed on administrative leave, and the process of termination has begun. The missing funds are directly related to revenue generated from the inmate store, and at no time were any accounts of incarcerated persons affected.
"As Sheriff of Inyo County I am responsible for the accountability of my staff and to ensure the public trust, and I accept full responsibility," stated Sheriff Bill Lutze. "I will do everything in my power to ensure that justice is carried out for the citizens of this county, and I assure you that this fraudulent behavior will not be tolerated. This incident does not reflect the professional standards of the men and women of the Sheriff's Office."
The Sheriff's Office will continue to make details available as they become known and the investigation concludes.