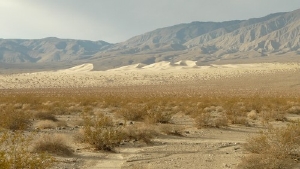 In the 1960s, Carlos Castenada emerged as a popular author and figure in mystical writings. His books sold millions. Critics were skeptical about his tales of Mexican Shamanism, but his fans grew in number. He later founded Cleargreen, an organization to promote his spiritual beliefs. Castenada also reportedly gathered around him five women who all disappeared shortly after his death in 1998. The body of one of them was found in Death Valley. Now, relatives and others want to conduct a search for the other missing women. They have prodded Sheriff Bill Lutze to circumvent bureaucracy so they could take in dogs and search crews over the weekend.
A man named David Marin emailed local media and the Sheriff. He said he is a cousin of Amalia Marquez, one of the missing women associated with Castenada and one of the people in a reported suicide pact of those who survived the eccentric author. Marin wrote the he and others wanted to search the area where Patricia Partin's body was found and nearby mine shafts where a shrine was supposedly set up.
Marin alleges that Inyo Sheriff's men advocated a search of the mine and that the Park Service needed to know if the Sheriff had opened an investigation. Robert Marshall, who wrote an article on Castenada and his followers, said the group had to die together to find the way to eternal life. He called it a cult. Marin continued to push the Sheriff to open a case.
Sheriff Lutze responded in an email. He said in 1998, an abandoned vehicle was found near the Panamint Dunes. There were no other vehicles in the area. Five years later, the remains of Patricia Partin were found and later identified. Lutze said Mr. Marin contacted his office at the end of March with a request to open a case to look for the other missing Castenada women. Lutze said he was told there is no open case or missing person's case. Although Marin said he had Park Service permission to search the Death Valley mine, Sheriff Lutze said his Department called the Park Service and found that Marin did not have a permit or permission.
Lutze said his office and the Park Service explained the permitting process to Mr. Marin who continued to push and insist that the Sheriff open a case. With no immediate evidence to do that, Sheriff Lutze said his Office "currently has investigators reviewing original case files and has had numerous conversations with the National Park Service recently to share information." Lutze said, "The Sheriff's Office remains willing to work with David Marin and the National Park Service, but as Sheriff of Inyo County I have an obligation and duty to proceed with cases based on facts and will not circumvent permits and processes put in place to insure the safety of personnel, the preservation of archaeological sites, as well as other historical grounds."
The writer, Robert Marshall responded to Sheriff Lutze in another lengthy email, and insisted that the Sheriff grant permission for them to search Death Valley. The Sheriff made it clear he couldn't do that. Mr. Marshall emphasized that after the death of Carlos Castaneda, five women, "all key figures in the cult he started building in the last ten years of his life, disappeared." Marshall said Castaneda had spoken repeatedly about the virtues of suicide. He claims Patricia Partin had gone to Death Valley to find an abandoned mine as a site for a group suicide.
At last word, the group said they planned to show up in Death Valley on Saturday.