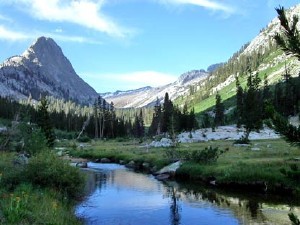 Park Officials say that the three backpackers missing in Kings Canyon National Park appear to have been found alive.
The three men from Southern California were due back from a 65 mile backpack trip in Sierra on Monday but did not return. A search effort started soon after but the recent storm hampered the operation.
Adrienne Freeman with Sequoia Kings Canyon National Park reports that a group matching the description of the three missing men was spotted by helicopter at about noon today. None have been positively identified at last word, but all appear to be in good physical condition, Freeman says.
The three were located about a quarter mile from Cedar Grove in Kings Canyon, but high on a ledge above Roaring River Falls. Park Rangers planned to mount a technical rescue operation to get the three off the ledge. At last word the three had not been positively identified, but it does appear that the missing men, Jordan Zeman, Jacob Zeman, and Lanier Rodgers have been found alive.