A friend searching the high Sierra from an airplane helped locate an overdue backpacker who had planned to meet friends in Pine Creek, near Rovana, on Saturday.
Battered, bloody, and with a broken wrist, Charlie Hench of San Luis Obispo was in good spirits when the CHP helicopter flew him into the Bishop Airport Wednesday morning.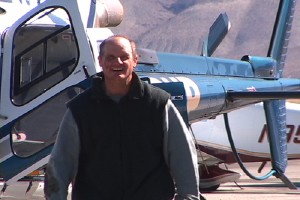 Hench had reportedly started a trip across the Sierra on Tuesday, planning to hike over Italy Pass and out to the Pine Creek trailof head on Saturday.
Fresno County Search and Rescue started a massive search of the west side of the Sierra on Monday, calling Inyo SAR to help out on the east side of the crest. Trackers, dog teams, and air searchers combed the rugged terrain for any sign of the missing man.
Wednesday morning, the third day of search operations, Charlie Hench was spotted by airplane near Mt. Julius Caesar, on the west side of the Sierra crest. Hench was spotted by Bishop Public Works Director David Grah, out looking for the subject who is a friend of a friend.
Grah took off early Wednesday morning, flying over Italy Pass all the way to Lake Edison without seeing any sign of the missing man. On the way back toward Bishop, with the sun in his eyes, he spotted Charlie Hench on a snow covered ledge waving a piece of cloth on a stick.
When we spoke with Charlie Hench he reported that he was headed for Italy Pass in snow conditions, but ended up on the wrong pass. When he started down the steep north side of this obscure saddle, he fell, breaking his wrist and hitting his head. Hench continued down, taking another fall before he found a spot to pitch his tent. He said that he had seen other helicopters, but they were unable to spot him.
The rescued man said he was happy to know that Grah had spotted him and was very thankful to all the people who were out looking for him.
Hench then hopped into an Inyo Sheriff's vehicle where the deputy drove him to the hospital.