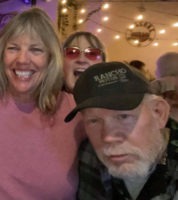 Update: More Information on Still Missing Person in Saline Valley/Warm Springs; Tulare County SAR Joins Search
[Seventy-six-year-old Robert "Bob" Alan Wildoner of Apple Valley, Calif. has been reported missing since May 7th.–SWM News]
UPDATE: 5/12/21 from the Inyo County Sheriff's Office—
Yesterday searching continued for Robert Wildoner. Search teams from yesterday included 15 members from: Inyo SAR, Mono SAR, China Lake Mountain Rescue Group, canines were provided through CARDA, and aerial support was provided by China Lake Naval Weapons Base. The high temperature yesterday was 94 degrees; today the temperature is expected to be 105 degrees and is not safe for ground search efforts. Aerial recon will continue throughout today with a large-scale grid search planned for Thursday morning. Any updates will be posted.–ICSO
Elsewhere on the Internet, one member of a social media group described his usual attire as "always wearing a baseball cap to protect his bald head. White facial hair. Most likely wearing shorts, a t-shirt, and flip flops. Possibly has a backpack with him or a robe that he would wear from the hot springs."
He was purported to be camping around the hot springs area in attempt to repair and retrieve his other truck that broke down over Easter Holiday. His keys and cell phone were found in his truck at his campsite, a broken-down Ford F240/350 long bed.
A Press Release yesterday 5/12/2021)  from the Tulare County Sheriff's Office says they sent a team to Death Valley around noon to assist the Inyo County Sheriff's Office.
According to TCSO, he (Robert Wildoner) "possibly came to the area on May 4th with a plan to fix a vehicle previously left behind.
The TCSO team includes a sergeant, three deputies and a volunteer SAR member. They added that  "The temperature is expected to be above 100 degrees."
Original Press Release 5/11/21— Inyo County Search and Rescue has been scouring the area near and around Saline Valley for missing man, Robert Wildoner.
Both ground teams and aerial reconnaissance has been used and will continue to be used today.
If anyone has any information that can assist, please call Inyo County Sheriff's Dispatch at 760-878-0383, option 4.