This Friday night, October 14, at Mill Creek Station: a musician, Leah Shoshanah–vocalist and guitarist–new to the Owens Valley will offer us original songs and…what more?? I don't know! But come out with me to find out! John Millerburg of Bishop, fine songwriter and vocalist, will perform too. Great double bill!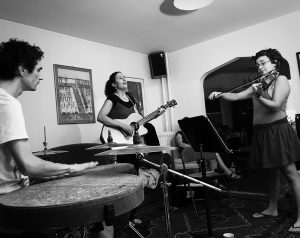 Bring something to eat and drink—potluck at 6:30, followed by the music. This will hopefully be on the outdoor and magnificent stage if weather is agreeable! If not, we'll be inside. One way or the other, it's a go! Mill Creek Station is 6 or 7 miles north of Bishop on the east side of Highway 395 as you drive north. The Station is a white building on the frontage road, opposite Rovana/Round Valley. This is a free event. All are invited! Below is a bit of info about Leah Shoshanah.
Leah Shoshanah is a versatile performer and singer-songwriter from Chicago. Influenced by rock, folk, samba and jazz, Shoshanah's original music takes on a life of its own and has inspired audiences to sit spellbound, as well as laugh, cry and dance.
Shoshanah has performed worldwide in a myriad of situations, from performances in her native Chicago, to singing with the South African National Opera Company, "Opera Africa". She seeks to create a transformative experience for listeners, one that will take them on a journey through self-discovery and love.
For more information, visit: www.leahshoshanah.com.