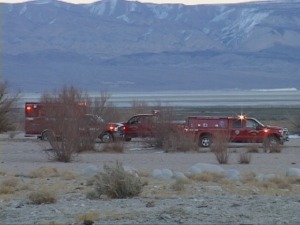 Just before 4pm Thursday afternoon, several people saw a jet plane crash into the Owens Dry Lake. The pilot ejected and walked away.
The Inyo Sheriff's Department responded immediately to the report and sent units to the reported site. Lone Pine Fire and Ambulance rushed to the scene too. Scanner traffic over the Inyo Sheriff's radios reported that the pilot was seen walking away, possibly by the Highway Patrol and others.
The crash site was near the old PP&G plant about five miles south of Lone Pine. Reports said the plane went down about a quarter of a mile east of the plant in the lake bed. Officers said the pilot was seen walking with his parachute and appeared to be okay. Right after the crash there was a military aircraft circling over head. It was reported as a naval aircraft.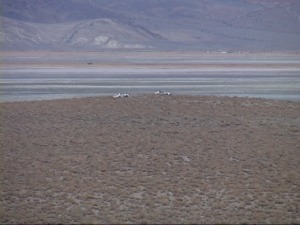 The Inyo Sheriff's Dispatcher said he received numerous calls from people who saw the crash – from motorists and local residents. Early reports indicated explosive ordnance may have been aboard the crashed jet. Initially authorities thought the plane was from China Lake Naval Weapons Center. Later a call indicated it was an Air National Guard plane.
Inyo Sheriff Bill Lutze advised officers to let the Navy handle the wreck. There was reportedly some fire confined to the plane that went out. The aircraft itself was not accessible by vehicle, but the Sheriff's Department stationed patrol cars nearby to the secure the area.
The pilot did go to Southern Inyo Hospital with some complaint of back pain. It was not immediately known why the plane went down. The Eastern Sierra is part of a larger military controlled air space in which jets regularly train. This is not the first crash in the dry lake- Owens Valley area.