Press release
Mammoth Lakes, CA – Mammoth Lakes Repertory Theatre's Artistic Director Shira Dubrovner announced a unique partnership with Lia Webb of Adventure Hub to co-produce a series of extraordinary presentations titled Mountain Culture Month throughout the entire month of March.  For the final week of March, Mike Vowels will present the documentary Return to Paradise – A Skiers Journey on Wednesday March 27th at Edison Theatre.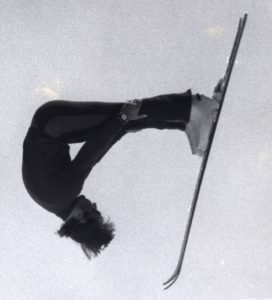 The documentary chronicles his inspiring life story as a former aerial skiing champion who was paralyzed from the chest down in an accident in 1985. After 28 years of adamantly refusing to ever ski again, a series of epiphanies, along with the support of his friends and family, finally prompted him to return to the ski slopes he loved as a young man.
"Skiing without the use of your legs is just as hard as it sounds," Webb stated, "and it's easy to see why Mike was initially discouraged by the idea. The fact that he rose above that out of love for the sport demonstrates just how important it is to pursue your dreams against all opposition. I can't think of a better example of Mountain Culture than that."
One of the early pioneers of ski acrobatics in the early 70's, Vowels and a couple of "hot dogger" friends introduced the sport to their home mountain of Alpental. Through a combination of dedication and natural athleticism, Vowels became a champion in the sport, known for his trademark "Vowels-a-copter:" a trick that was a fusion of helicopter, 360, and daffy.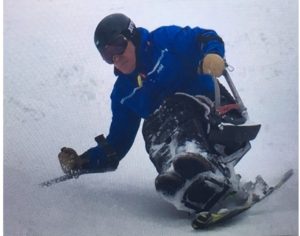 His victories didn't earn the same money or sponsorship similar successes do today, but at age 18 he was given the keys to a 914 Porsche – then a second Porsche the year after. "I was sitting on top of the world," Vowels said to describe the way he felt. A few years later however, he was only earning second and third place medals as his competition turned from skiers-turned-acrobats to gymnasts-turned-skiers. He retired and began teaching at Alpental, but a few years after that, his paralyzing ski accident seemed to spell an end for even recreational skiing. An all-or-nothing type of person, Vowels vowed never to ski again and kept to it – for 28 years. Return to Paradise – A Skiers Journey, produced by filmmaker John Plummer, tells the story of Mike's decision to take to the slopes again, the people who encouraged and supported him, and his struggle to fulfil his dreams – face plants and all.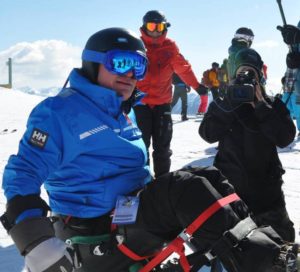 Please join Mammoth Lakes Repertory Theatre and Adventure Hub at Edison Theatre next Wednesday, March 27th at 7pm for a screening of this inspiring true story, followed by a Q&A with Mike Vowels. Ticketing, information and details atMammothLakesRepertoryTheatre.org.
​FACT SHEET:
WHO: Mammoth Lakes Repertory Theatre
WHAT: Mountain Culture Month – Return to Paradise – A Skiers Journey
WHEN: March 27 at 7:00 PM
WHERE:               Edison Theatre, 100 College Parkway, Mammoth Lakes, CA 93546
COST:                    Tickets online: $10; Tickets at the door: $12 No discounts
RESERVE TICKETS: www.MammothLakesRepertoryTheatre.org
The Mammoth Lakes Foundation offers both free education (books and tuition) to any Mono County resident and/or high school graduate who pursues an AA degree at Cerro Coso Community College and year-round theatre programming at Edison Theatre. For more information or to make a tax-deductible donation to the theatre or to the Foundation, please contact Shira Dubrovner at 760.934.6592, the Foundation office at 760.934.3781 or visit MammothLakesFoundation.org.
Our nonprofit work is only possible through your generosity.