Michael Omie Mairs leapt into life on April 29, 1974 and he never looked back up to his passing on July 31, 2016 after a courageous two year battle with cancer.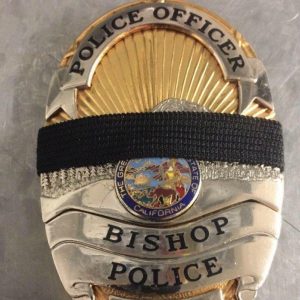 Mike was born and lived his life in Independence, graduating from Owens Valley High School in 1992. He was a peaceful warrior, caring and kind-hearted, but with a love for competition. He excelled in athletics, particularly baseball and softball.
Mike graduated from the California Post Law Enforcement Academy at Allen Hancock Police Academy in Santa Maria, California in 2001. He served as a volunteer firefighter/EMT for Lone Pine Volunteer Fire Department receiving firefighter/EMT of the year award during that time.
He began his law enforcement career for the lnyo County Sheriffs Department as a correctional officer and was promoted shortly thereafter to Deputy.
Mike joined the Bishop Police Department in 2007. During his tenure he served as Watch Commander, Field Training Officer, and Certified Police Canine Agitator.
He excelled in Criminal interdiction/Major Drug investigations, and received the City of Bishop Medal of Merit and numerous letters of commendation.
He continued his passion as an EMT by becoming an Advanced EMT, Tactical Emergency Medical Support and proudly served as an Operator for the lnyo County Special Emergency Division (SED). He further served the community by working for
Symon's Ambulance Company as an Advanced EMT.
Mike was an exemplary law enforcement officer, exhibiting compassion, courage, and
commitment to the badge and to his oath of service for his entire career.
Mike married his love Kristin Mairs on August 19, 2006 in Lone Pine, California. She was his constant companion and best friend to the end. Her loyal, loving care of Mike through his long battle was constant and unwavering.
One of his deepest wishes was fulfilled with the birth of his two children Sadie and Lane. Mike was a devoted, loving father. His life revolved around his family and friends.
Mike was preceded in death by his father, George William Mairs. He is survived by his wife Kristin, their children Sadie (7) and Lane (4), mother Margaret Mairs, brother Chuck and wife Adrienne Mairs, brother Doug and wife Loralee Mairs, father and mother in-law Robert and Karen Mike, sister in-law Stacey Mike, in-laws Tracey Mike and C.K. Felton, in-laws Gary and Tina Rieser, sister in-law Allison Mike, along with numerous nieces and nephews.
Memorial and graveside services will be held in Lone Pine, Saturday, August 6th at 10 A.M., at Mt. Whitney cemetery followed by a potluck luncheon at the Mt. Whitney Golf Club.
ln lieu of flowers, donations can be made to the family of Mike Mairs under the name of Kristin Mairs at Chase Bank in Bishop.