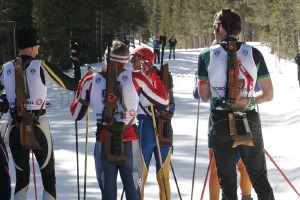 All,
….It looks as if Mother Nature has finally cooperated and we have enough snow to give the 2012 event a green light!
I apologize for the delay in getting the information out this year but given our large race overhead combined with the low early season snowpack, race organizers  were simply unable to commit to  holding the event until this late date.
In any case….WE ARE ON!!
If you helped last year , in any capacity, whether that be thru a financial donation, as a volunteer, or as a racer, we asked you to do the same again this year.
Tax exempt race donations allow the event to occur and Biathlon proceeds directly  support our Junior Nordic  race programs.  Checks can be written to ESNSA.Org 501c3 and mailed to :
Eastern Sierra Nordic Ski Association 501c3
79 Jefferey Pines rd
ATTN:   Treasurer
**Please earmark: "Biathlon" on check
Mammoth Lakes, CA USA 93546
Below are some brief details.
A complete Users Guide to the 2012 Mammoth Winter Biathlon  Event can be downloaded in PDF format on the Mammoth Mountain Website/Biathlon as well as the ESNSA.org website.  Race sign up and Liability releases will be done electronically via Active.com Forms can be accessed on either of these websites as well.
Both the race location and format have changed for 2012.  The race will be held at the Reds Lake Basin near the Outpost Restaurant behind Chairs 13 and 14 at Mammoth Mountain.  The race format will be short, fast, 1.5 kilometer repeating "stadium" loops completely visible at all times by spectators. This was designed to create more spectator energy for the sport of Biathlon.  The race will be professionally announced by Chris Hollingsworth Productions.
Race lengths will be 3 kilometers for ages 8-19, Wounded Warriors, and Beginner Adult categories, all of whom will be racing on Saturday March 24 2012 and shooting 2 bouts at 25 meters.  Sunday races will include Seniors and all Master levels who will ski  a 4.5kilometer race and shoot 2 bouts at 50 meters.  Elite and National Guard racers will shoot 4 bouts at 50 meters and ski a total of 7.5 kilometers.  All races will be electronically timed with a chip timing system.
In order to make this race successful, we need the following:
1. RACE DONATIONS
1a. RACE DONATIONS
1b. RACE DONATIONS
2. Stadium Build-out Volunteers for Tuesday March 20.
2a. Fence and signage Volunteers Friday March 23
3. March 20: Stadium Buildout Captains (x3) unloading team, Target, and Build teams
4. A Volunteer Coordinator
5. A Press Liason
6. An Elite athlete Liason
7. A Vendor Village Coordinator
8. Shooting Lane Judges (x20) each day
9. A child( ages 8-12) Coordinator
10. A Junior (ages13-18) Coordinator
11. A National Guard Laison
12.  Laser Clinic Instructors (Fri Night)
13. Laser Clinic Lead Instructor
14. Wounded Warrior/ DSES Liason
15.General Course build out Volunteers for both Saturday and Sunday am.
16. Take down Crew Captains (x3)
Backdrop takedown, targets and fence, container loading.
17. Registration personnel (5) to work closely with Active.com
Let's keep the energy growing! Please disperse this message to your contact lists.
Ski fast….shoot straight!
Mike Karch, MD
Founder, Mammoth Winter Biathlon
"North America's Largest Biathlon"