Michael Rhodes died peacefully in Walker, Ca from a long battle with Cancer on Thursday, August 25, 2016. He was 58 years old.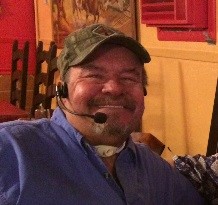 He was survived by his Wife, Julie Rhodes; Mother; Cecelia McCormack, Brothers: Joshua Rhodes (Toni); Jim Sanchez and Garland Rhodes; Sister Madeline Lane (Dennis); Daughters Michelle Smith (Jay); Kimberly Schuchman (Mikey); Grandchildren Madison and Michael John Schuchman; numerous extended family and friends, and his faithful and loving dog, Amy.
He was proceeded in death by his fathers, Garland Daris Rhodes & Maurice "Doc" McCormack; and his brother Rick Rhodes.
Raised in Bishop CA, Mike grew up as one of the "Rhodes boys".
In his younger years, he worked in numerous professions including running an ACE Hardware store in Cathedral City, California.
Mike was most proud of his employment with Mono County, Bridgeport CA, where he came to be known for his infectious smile and sense of humor, love of football, obsession with cooking and his desire to learn everything about growing his own garden.
He enjoyed the thrill of NASCAR, the guilty pleasure of competition cooking shows and exploring the wonders of the natural world around him. In 2013, he tagged his first and last deer. Through it all, his family remained his highest priority and he loved with his whole heart.
Family and friends will celebrate Michael's life at 4 pm on Wednesday, August 31, 2016 at Meadowcliff Lodge in Coleville, CA.
In lieu of flowers those desiring to make a memorial donation in Mike's memory, are asked to do so to American Cancer Society or the Gary Sinise Foundation in support of our nation's military veterans.