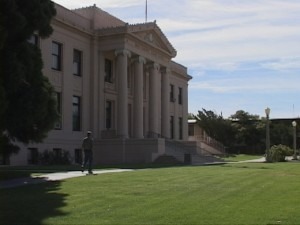 A Message from your County Librarian
Many of you have read the news about the 27% budget cut the Inyo County Free Library experienced this year, and the additional proposed cuts being discussed for next year. There is no doubt that the draconian cut this year has had an impact on library service. If further cuts are implemented, I would like to assure you that the remaining Library staff and I will make every effort to continue to supply internet services, new books and media, public information and reference, even if it is at a diminished level.  The County Libraries not only serve as repositories of knowledge, but are our communities' living rooms, where people gather to learn, discuss and study. They enable anyone of any economic level to gain an education through their own effort, or even on-line through the internet. Libraries are the underpinning of a free country, embodying the values of freedom of information and free speech.
Recognizing this value, supporters in the community such as the Sunrise Rotary Club, Inyo First Five Commission, Eastern Sierra Connect Regional Broadband Consortium, the Inyo County Superintendent of Schools, the Friends of the Library in the various towns, the State Library and others have contributed a great deal of money and effort this year toward facilities, automation, collections, and internet access. We have made tremendous strides toward modernization of the Library this last year with the great effort and dedication of the staff and community.
The most important thing is to ensure that the libraries are open – with books and other materials to support the Library's mission. In support of that goal, I will be asking the Inyo County Board of Supervisors to accept a donation from me of $200 per month, equal to the amount of the recent raise of 4%, expressly to fund additional hours of staff time. Although this is a small amount, I am hoping others will join me in donating for this purpose.
The outpouring of public support for the Inyo County Free Library as we move through the budget crisis has been overwhelming. I thank you, and will do whatever is necessary to advocate for our Library.