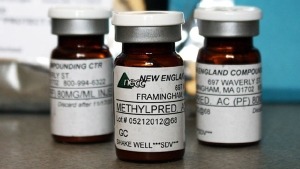 The frightening outbreak of meningitis in several states due to apparent contamination of injectable steroids is not a problem at hospitals in the Eastern Sierra.
National news reports have named the New England Compounding Center in Massachusetts as the pharmacy that has distributed the contaminated product.  At last count, the Centers for Disease Control reported 15 deaths and a total of 233 cases of non-contagious Meningitis.
The Food and Drug Administration does not regulate this kind of pharmacy but regulators and law enforcement are investigating the deadly reaction to steroid injections in various joints and for back pain.
In the Eastern Sierra, Northern Inyo Hospital Administrator John Halfen said that his staff checked last week and this week.  He said, "None of our records showed that we received any products from the problem pharmacy."
At Mammoth Hospital, Community Relations Director Lori Ciccarelli reported that their hospital pharmacist said that Mammoth does not order any medications from the New England Compounding Center. She said the hospital uses a similar product but it is manufactured by the FDA regulated company, Pfizer.