Sierra Gardens Nursery in Bishop has long offered an enchanted garden atmosphere with lovely pathways, plants and shrubs. Owner Nancy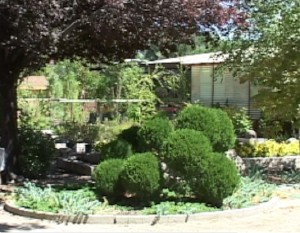 Roberts and her little dachshund Teddy could be seen wandering the beautiful twists and turns through the greenery. After a long battle with cancer, Nancy died on July 25th. Her son, Jim Roberts, said she was at home as she had wished. Friends and family planned to gather for a memorial service Sunday, August 8, at Sierra Gardens Nursery at 3pm.
Many made a habit of popping into Sierra Gardens for the lovely flower or potted plant to make home a better place. Customers said a purchase from Nancy was sure to thrive in any environment because of the tender loving care at the nursery. Nancy Roberts had a way with plants. She understood them and loved them. Some say she had far more patience with the greenery than with people. She was fiercely independent with a curmudgeonly demeanor and a soft heart.
She was an expert horticulturist and an artist. Many will miss her no-nonsense personality. Son Jim sayshe and his sisters will work as a team to keep Sierra Gardens open. Nancy Roberts was 80 years-old and leaves behind her son Jim of Bishop, daughters Donna Rich of Bishop, Connie Zelman of Idaho and Nathel Worcholik of Rhode Island. Nancy had moved to Bishop from Temple City, CA and with a friend bought Sierra Nursery in 1978. They changed the name to Sierra Gardens and within two years, Nancy became the sole proprietor and continued running Sierra Gardens for the next 30 years.