The Forks Fire in the Bishop Creek drainage launched this fire season with a dramatic show. Fortunately, no homes or other structures were lost. The more than 3,000 acre fire did grab the attention of residents and visitors. Now, the Forest Service wants to drive home the message – protect your home and educate yourself before the next wildland fire.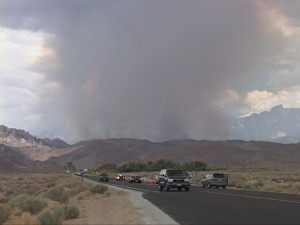 The Forest Service will host a public meeting to talk to residents about fire preparationj and evacuations Wednesday night at 7pm at the Starlite Park in the community of Starlite at the intersection of Starlite Drive and Arcturis.
The big fire did cause voluntary evacuations of Starlite as the fire began to burn toward that community. This followed the mandatory evacuation of all campgrounds, marinas and pack stations in the Bishop creek drainage, along with the communities of Aspendell and South Fork.
Fire managers will talk about the Forks Fire Wednesday night and the Inyo Sheriff's Department will talk about planning for evacuations.