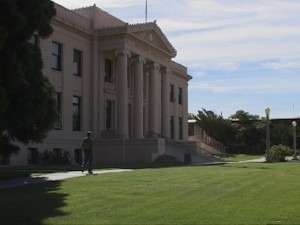 Procrastination – that appears to have been the management style that Inyo County has used with the town water systems of Independence, Lone Pine and Laws. Inyo took on those systems from LADWP about 20 years ago. Only now has it come to light that at least two of the systems will need nearly $10 million in repairs and upgrades and the County has no capital improvement fund to do it.
The Independence Civic Club and Lone Pine Chamber of Commerce have organized a public meeting on this issue for Monday night at 6pm in the Owens Valley School Multi-Purpose Room behind the gym.
The news about the serious financial situation with the Lone Pine and Independence systems came to light a couple of weeks ago when Interim Public Works Director Doug Wilson reported to the Supervisors that the California Department of Health Services conducted an inspection and laid out the aged condition of the systems and the expensive needs.
The water systems were transferred to the County as part of the Long Term Water Agreement and as a mitigation measure for pumping by the Los Angeles Department of Water and Power. The groundwater had seriously gone down in southern Inyo from LADWP pumping. Officials said they would keep water rates down so citizens could afford to keep their trees, shrubs and grass alive. Now, the ghost of water rate increases looms large.
The short story is Inyo County did not insist that DWP upgrade the systems to state standards and instead took $2.5 million from DWP to contract for the work. It didn't all get done and now there is no reserve fund even though the County had said part of the water rates would go into such a fund.
Find out more at Monday's meeting – 6pm, Owens Valley School Multi-Purpose Room.