News release
The California Department of Fish and Wildlife (CDFW) will host a series of statewide meetings to inform the public and seek input on the proposed new statewide changes for
trout
fishing
regulations
.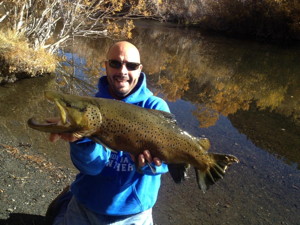 "The California Fish and Game Commission directed our department to make the

regulations

and seasons more simple and easy to understand, while continuing to protect and manage the state's

trout

resources,"
said Roger Bloom, CDFW Inland Fisheries Program Manager.
"We look forward to explaining how these new changes came about, and how they could be implemented."
The meetings will focus on the following key areas:
Objectives of the new

regulation

framework and species management goals
Parameters of the

regulation

standardization and consolidation process
Review of specific proposed changes to

regulations
CDFW personnel will be available at information stations to answer questions and listen to stakeholder interests, needs and ideas. All stakeholder input will be taken into consideration as a
regulation
simplification package is developed for formal public review through the California Fish and Game Commission.
###
From Jeff Simpson, Mono County
As many of you know, new fishing regulations have been proposed by the Department of Fish and Wildlife for the state which will affect Mono County. I thought it would be best to send out an email clarifying what is being proposed and to remind everyone about the public comment meeting being held in Bishop on March 20th.
What's being proposed – A year-round fishing season with a 5-bag limit for everywhere in Mono County outside of the select lakes and streams on this list: https://nrm.dfg.ca.gov/FileHandler.ashx?DocumentID=165844&inline
The select bodies of water on this list that will have special regulations include:
Bridgeport Reservoir stream tributaries (not the actual reservoir itself), By-Day Creek and tributaries, Convict Creek, North Fork of Cottonwood Creek (White Mountains), Crooked Creek, Crowley Lake, Deadman Creek, Fish Slough, Hilton Creek, Hot Creek, Kirman Lake, Lane Lake, Laurel Lakes and tributaries, Lee Vining Creek from the Lee Vining conduit downstream to Mono lake, McGee Creek, McLeod Lake, Mill Creek, Upper Owens River, Parker Creek, Robinson Creek, Rock Creek Diversion Channel, Roosevelt Lake, Rush Creek between Silver lake and Grant lake, Rush Creek below Grant Lake, Silver Creek, Slinkard Creek, Walker Creek, East Walker River, Whiskey Creek, Wolf Creek and tributaries and Wolf Lake. (Note: Topaz Lake and the West Walker River are on this list but would be moving to the year-round 5-bag limit as well). Please click on the link and scroll down to the body of water to find the exact proposed regulation. Again, any body of water in Mono County not on this list would be year-round fishing with a 5-bag limit.
Public Comment: The Department of Fish and Wildlife will be holding a public meeting in Bishop to discuss this topic – Wednesday, March 20, 2019 6-8 p.m. Talman Pavilion, Tricounty Fairgrounds, 1234 Fair St., Bishop, California
Please let me know if you have any questions or concerns. We will be discussing this proposal at our next Mono County Fish and Wildlife Commission meeting in June Lake on April 3, 2019 at 10am in the June Lake Community Center.