[Editor's Note: If you are familiar with Inyo LAFCO at all it is most likely from our most recently posted article posted on May 27, 2021 titled "Mammoth Hospital Wins Inyo LAFCO Lawsuit Appeal over Northern Inyo Hospital." (Rather than recounting all the details of the case again, you can read those in our original post by Sierra Wave reporter Deb Murphy. For all our past postings on this lawsuit, use our "Search" feature on our main Sierra Wave website page in the upper right-hand corner; type in "LAFCO.")
A lawsuit was filed in 2015 against Mammoth Hospital by the Northern Inyo Healthcare District and Inyo LAFCO challenging the legality of the orthopedic and physical therapy clinic operated by Mammoth Hospital in Bishop. In April, 2017, Sierra Wave posted this article, "Court rules for Mammoth Hospital in lawsuit by NIHD, LAFCO" which NIHD and Inyo LAFCO appealed…and again lost in May, 2021 of this year.
In this particular instance, Inyo LAFCO did not prove a very powerful ally or an effective advocate to NIHD in challenging the legality of the orthopedic and physical therapy clinic operated by Mammoth Hospital in Bishop.–CJames]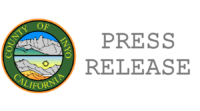 (INYO COUNTY) Ever heard of LAFCO (the Local Agency Formation Commission)? Probably not unless you're a local agency wonk. But you might be surprised to learn that LAFCO has almost god-like power over who provides local government services and where. No city can come into existence or change its boundaries without LAFCO's approval. Same for all of the "special districts" that provide fire protection, water, healthcare, and other critical services.
Here are a few basic facts about LAFCO that every informed citizen should know.
LAFCOs are a creature of California state law dating back to the 60s, and every county is required
to have one. As noted above, the "CO" in LAFCO stands for Commission and that's what it is – an
independent body appointed by the county board of supervisors, city councils, and sometimes special
districts.
The Inyo County LAFCO is a five-member commission comprised of two county supervisors
(currently Jeff Griffiths and Rick Pucci), two city councilmembers (currently Stephen Muchovej and
Karen Kong), and a public member (currently Allen Tobey). They hold public meetings and hearings as necessary throughout the year, generally to consider proposed extensions of local agency boundaries or the provision of new or extended agency services to private parties outside of those boundaries. With few exceptions, such proposals can't be implemented without LAFCO's approval. In some cases, LAFCO approval is followed by voter approval as well.
Why does LAFCO have such power? Why even require local agencies to obtain LAFCO approval
before expanding their boundaries or services? In a nutshell, LAFCO's job is to ensure that such
boundary and service extensions are consistent with regional service planning principles intended to
promote orderly growth, discourage urban sprawl, preserve agriculture and open space, and encourage efficient, sustainable public services.
In its brochure, What is LAFCo?, the California Association of LAFCOs explains that prior to the advent of LAFCOs, "The lack of coordination and adequate planning led to a multitude of overlapping, inefficient jurisdictional and service boundaries . . . often leading to higher service costs to the taxpayer and general confusion regarding service area boundaries."
It is worth noting that the "L" in LAFCO stands for "Local." And indeed, LAFCOs must consider
and attempt to balance a variety of local factors in their decision-making, including local conditions,
policies, general plans, and service capabilities, as well as environmental considerations, and funding
considerations. On the latter point, LAFCO must consider how a proposed service will be paid for.
Through new fees, taxes, or assessments? Or some other mechanism? And is the source of funding
realistic and sustainable?
All in all, LAFCOs play an important role in promoting the provision of efficient local
government services and quality of life for the benefit of taxpayers and citizens.